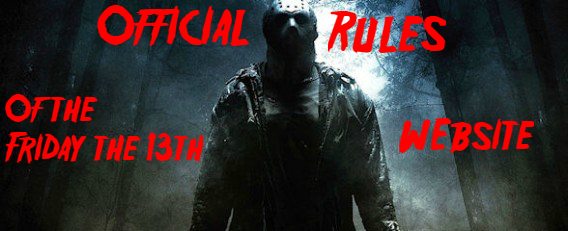 Offcial Rules
1. Users will and must show some respect for both the staff and other users of the site!

2. Users are prohibited from uploading or posting any type or kind of Sexual and/or pornographic content!

3. Users are prohibited from posting Hateful or abusive content!

4. Users are prohibited from posting Defamatory content and/or affecting the integrity of a person!

5. Users can't Sale/exchange of medication that requires a prescription from a licensed practitioner/medicines without prescriptions!

6. Users are prohibited from posting about Drugs and or any other illicit substance!

7. Users are prohibited from uploading or post any Copyright infringement properties!

8. Users are prohibited from posting about Hacking of any kind or type!

9. Users are prohibited from Spamming the forum with the same discussions multiple times in a row!

10. Users are prohibited from posting anything about a Phishing or malware website!

11. Users will not commit any type or any kind of Credit card fraud!

12. Users will not ignore official staff warnings when given to them!

13. Users are not allowed to use Sockpuppet accounts. (Multiple Accounts to avoid a ban or to cheat a specific feature.)
Consequences
Users will be given 3 Pre-Warnings before an official ban is given to you!

: No Warnings

: Ban for a Day (24 Hours or 48 Hours)

: Ban for a Week (7 Days) or Two Weeks (14 Days)
: Ban for a Month (Default 30 Days) or 2 Months (60 Days)

: Permanent Ban from the website!
(USERNAME/IP BAN IF YOU TRY TO SOCKPUPPET!!)
Users should know this is official and this won't change....if you want to revoke your pre-warnings then make an apology in the
Requests
section of the forum.
Ad Promotions!
Promotions
<- Click Here to Buy or Sell Items!
What are the rules?
Members may Sell or Buy Masks, Shirts, DVDs, Costumes, Toys, Games, and even Jewelry only! and SELLING OF ILLEGAL ITEMS! SUCH AS DRUGS OR 18+ OBJECTS ARE PROHIBITED ON THIS SITE! and if a Member selling is lying or even committing a fraud about an item they are selling then the member who brought the merchandise can and may call the AUTHORITIES as we don't condone or promote FALSE ADVERTISING!
Disclaimer about Promotions
We do not KEEP any money made by the seller! the money is purely and only kept by the INDIVIDUAL themselves! WE DO NOT DEMAND OUR MEMBERS TO PAY US FOR USING OUR PLATFORM! IF MONEY IS SENT IT'S USED PURELY AND FOR THE WEBSITE!
(IF THE INDIVIDUAL CHOOSES TO GIVE US MONEY THEN THAT IS THEIR FREE WILL!)
Disclaimer about Nudity
Since the TOS Prohibits Nudity of ANY KIND! If you want to post scenes from the franchise or any other such things CENSOR THE IMAGE! Put a Black Bar on them! And if you don't know this you will be given ONE and ONLY ONE WARNING AND IF YOU POST NUDITY AGAIN KNOWING YOU WERE WARNED YOU ARE PERMANENTLY BANNED FROM THE WEBSITE INDEFINITELY!
---
Permissions in this forum:
You
cannot
reply to topics in this forum